PRINCE GEORGE'S COUNTY, MD.
Cedar Heights, Prince George's Co., Md., is situated on high ground, well watered by numerous springs, a short distance from the District Line at Chesapeake Junction. It is the next subdivision to Fairmount Heights.  It has wide streets, well laid out. There is a church on the property and three stores.
Nearly all of the lots measure 25X125 feet, although there are a considerable number larger and a few smaller in extant. From the car line Cedar Heights may be reached by two routes: first by alighting at 61st St. and walking through Fairmount Heights, and, second, by going to the end of the car line, from which point trains leave for Chesapeake Beach, and walking northward past the Old Addison Chapel.
The car fare is but five cents to any part on the District reached by the main or a transfer line of the Washington Railway and Electric Company.
Citizens of this region belong to the more progressive element of the Colored Race, many of them being employed by the Government. They are attracting others to this section which is rapidly becoming an important community. 

[1]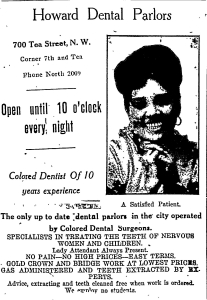 [1] Washington Bee, published as The Bee, 12 June 1915. Washington, DC.  Page 4.

The advertisement is one of many from page 3 of the June 12th, 1915 addition of The Bee.