Colonel Thomas Brooke, Jr. of Brookefield (1659 – 1730/1731) was President of the Council in Maryland and acting 13th Proprietary Governor of the Province of Maryland. He was the son of Major Thomas Brooke Sr. and Esquire, (1632–1676) and his second wife Eleanor Hatton, (1642–1725), who later remarried Col. Henry Darnall, (1645-1711).

[1]

Samuel Ogle (c. 1694 – 3 May 1752) was the 16th, 18th and 20th Proprietary Governor of Maryland from 1731 to 1732, 1733 to 1742, and 1746/1747 to 1752. Beginning in the late 1740s, Governor Samuel Ogle and his brother-in-law, Colonel Benjamin Tasker, imported a number of Thoroughbred horses, including the incredible Selima, to Belair. Long involved in Thoroughbred racing in the colonies, Ogle and Tasker sought to introduce English stock to the colonies in hopes of strengthening local racing stock. They succeeded. Their mare, Selima, still lives in history and in the bloodlines of many of today's famous racehorses.[2]

Thomas Sim Lee (October 29, 1745 – November 9, 1819) was born in 1745 at Bellefield in Upper Marlboro in the Province of Maryland. Thomas Sim Lee's long career of public service in Maryland began as a court clerk in his native Prince George's County. In that position, Lee was responsible for the court's administrative matters and oversaw the well being of legal records for the county. Lee served in this office until the onset of the American Revolution.

With the outbreak of the American Revolution, Lee was among those who quickly moved to support the cause of independence. In the winter of 1775-76, he was commissioned a major in the Maryland Militia, and helped to organize a militia unit in Prince George's County. Lee was first elected Governor of Maryland by the legislature in 1779, and was reelected each of the next two years. He began his tenure during the turmoil of the American Revolution. Just a month into office, Governor Lee received this desperate plea from General George Washington, who wrote that "the situation of the army with respect to supplies is beyond alarming…we have not more that three days bread." If the states could not provide the army with vital supplies, Washington feared "that the army will infallibly disband in a fortnight." Ten days later, Lee replied that the Maryland General Assembly had passed legislation which, Lee hoped, offered "a well grounded hope that the wants of the Army will be speedily satisfied."[3]

Benjamin Ogle (January 27, 1749 – July 7, 1809) was the ninth Governor of Maryland from 1798 to 1801. Ogle returned to Maryland in 1770 to find Tasker's daughters (his aunts) were occupying his father's estate, the Belair Mansion, so he resided in his father's city home at 247 King George Street in Annapolis (which is now Alumni House for the United States Naval Academy). Ogle took possession of the Belair Mansion in 1774 after a lawsuit to reclaim his father's home from the Tasker family[4]

Robert Bowie (March 1750 – January 8, 1818) served as the 11th Governor of the state of Maryland in the United States, from 1803 to 1806, and from 1811 to 1812. Robert Bowie was born at "Mattaponi" near Upper Marlboro in Prince George's County. His military career included: 1st Lieutenant, Prince George's County militia, 1776, Captain, Second Battalion, Maryland Flying Artillery, June 1776, Major, Prince George's County militia, 1794, Brigadier general, Fourth Brigade, Maryland Militia, 1801-1804, and Major General, First Division, Maryland Militia, 1812.

During his life, he held the positions of Sheriff, Prince George's County, 1782, Justice, Prince George's County, 1784-1802, House of Delegates, Prince George's County, 1785-1790, 1801-1803 (resigned), Collector of tax, Prince George's County, 1787, Justice, Orphans' Court, Prince George's County, 1790-1796, Commissioner of tax, Prince George's County, 1792, 1798, Justice, Levy Court, Prince George's County, 1795-1796, 1798-1802, 1806-1809, Maryland Senate elector, 1796, Governor of Maryland 1803-1806, 1811-1812, and Senator, Western Shore, 1809, 1810.[5]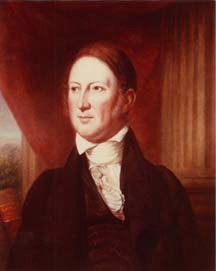 Samuel Sprigg (ca. 1783 – April 21, 1855) served as the 17th Governor of the state of Maryland in the United States from 1819 to 1822. He was likely born to his father's third wife, Margaret Elzey Weems between 1781–1783. After his father's death in 1800, he was adopted by his uncle, Osborn Sprigg. He would eventually inherit Osborne's Prince George's County estate of Northampton.[6] Besides serving as Governor and Senator, Sprigg held positions including lawyer in private practice, Prince George's County,  cornet, 2nd Cavalry district, 4th Brigade, June 18, 1814, Director, Planters' Bank, Upper Marlboro, Prince George's County, 1817-1828, President, Chesapeake and Ohio Canal Company, 1851-1852, Delegate, Constitutional Convention, Prince George's County, 1850.[7]

   Dr. Joseph Kent, M.D. (January 14, 1779 in Calvert County– November 24, 1837), a Whig, was a United States Senator from Maryland, serving from 1833 until his death in 1837. He also served in the House of Representatives, serving the second district of Maryland from 1811 to 1815 and again from 1819 to 1826, and as the 19th Governor of Maryland from 1826 to 1829. Kent purchased a 300-acre (1.2 km2) estate named "Rosemount" between Bladensburg and Upper Marlboro, Maryland, and settled there around 1807.[8]

                 Thomas George Pratt (February 18, 1804 – November 9, 1869) was born in Georgetown, in the   District of Columbia, once part of Prince George's County. Attended Georgetown University. He studied law, was admitted to the bar, and commenced practice in Upper Marlboro, Maryland in 1823. Pratt married and had five children with Adeline MacKubin Kent, daughter of Maryland governor Joseph Kent; later in life he moved to Annapolis.[9] He served in the Maryland House of Delegates, 1832-1836, as             President, Executive Council, 1838, in the Maryland Senate, 1838-1841, as             Governor of Maryland, 1845-1848, as State Director, Annapolis & Elk Ridge Railroad Company, 1848, 1854-1857, Charter Director of the Baltimore & Potomac Railroad "Pope's Creel Line", U.S. Senator, 1850-1857,        Delegate, Democratic National Convention, 1864, and Delegate, Union Convention, Philadelphia, 1866.[10]

                Oden Bowie, born at Fairview Farm near Upper Marlboro (November 10, 1826 – December 4, 1894), was the 34th Governor of the State of Maryland in the United States from 1869 to 1872. Oden Bowie served in the Mexican War in the ranks as a  Private, Lieutenant, Captain, U.S. Army, 1845-1847. He held numerous positons after his military service: President, Baltimore & Potomac Railroad, 1860-1894, President, City Passenger Railway Company, Baltimore City, 1873-1894, President, Maryland Jockey Club, Member of Maryland House of Delegates, 1849, Democratic National Convention, 1864, Chairman, Democratic State Central Committee, 1861-1865, and Maryland State Senator, 1867-1869.[11]

Parris Nelson Glendening (born June 11, 1942) served as the 59th Governor of Maryland from January 18, 1995 to January 15, 2003. Previously, he was the County Executive of Prince George's County, Maryland from 1982 to 1994. Glendening's career in public service began in 1973 as a city councilman in the Washington, D.C. subuParris Glendeningrb of Hyattsville, Maryland. He was elected to the county council of Prince George's County, Maryland, in 1974 and twice served as the Council Chairman. In 1982, he was elected as the County Executive of Prince George's County, eventually becaaoming the first county executive in Maryland history to be elected to three terms (1982–94). Under Glendening's leadership, Prince George's County was selected as an "All America County" by the National Civic League, and City and State Magazine named him the "Most Valuable County Official" in the nation. He and his top aides stood to benefit from a controversial Prince George's County supplemental retirement plan that was not widely disclosed by the press until after he was elected governor in an extremely close contest.[12]

Lawrence Joseph "Larry" Hogan Jr. (born May 25, 1956 in Washington DC; he grew up in Landover, Maryland, attending Saint Ambrose Catholic School and DeMatha Catholic High School) is an American politician who currently serves as the 62nd Governor of Maryland, in office since January 2015. He is only the second Republican governor in Maryland in nearly 50 years, and the first Maryland governor from Anne Arundel County to be elected in over 100 years.[13]

References

[1] Wikipedia https://en.wikipedia.org/wiki/Thomas_Brooke_Jr.

[2] Belair Stable Museum https://www.cityofbowie.org/289/Belair-Stable-Museum

[3] Documenting a Legacy:  Governor Thomas Sim Lee  1745-1819 http://msa.maryland.gov/msa/educ/exhibits/lee/html/case1.html

[4] Wikipedia  https://en.wikipedia.org/wiki/Benjamin_Ogle

[5] Archives of Maryland (Biographical Series)  http://msa.maryland.gov/megafile/msa/speccol/sc3500/sc3520/000100/000121/html/121bio.html

[6] Wikipedia https://en.wikipedia.org/wiki/Samuel_Sprigg

[7] Archives of Maryland (Biographical Series) http://msa.maryland.gov/megafile/msa/speccol/sc3500/sc3520/001400/001448/html/1448bio.html

[8] Wikipedia https://en.wikipedia.org/wiki/Joseph_Kent

[9] Wikipedia https://en.wikipedia.org/wiki/Thomas_Pratt_(Maryland_politician)

[10] Thomas G. Pratt (1804-1869)  MSA SC 3520-1458 http://msa.maryland.gov/megafile/msa/speccol/sc3500/sc3520/001400/001458/html/1458bio.html

[11] Oden Bowie (1826-1894)  MSA SC 3520-1465 http://msa.maryland.gov/megafile/msa/speccol/sc3500/sc3520/001400/001465/html/1465bio.html

[12] Wikipedia https://en.wikipedia.org/wiki/Parris_Glendening